Karen McDougal is a preschool tutor turned model who claims that she had an extramarital affair with Donald Trump while he was married to his current wife, Melania Trump.
On February 16th, the New Yorker published a shocking report detailing the allegations claimed that the Playboy model McDougal previously had a relationship with the US president.
The New Yorker shared a mysterious story which was hand-written by McDougal in a journal of sorts. The story detailed 9 months romantic relationship of McDougal with Trump.
She claimed that the National Enquirer's publisher American Media, Inc. also bought a story for $150,000, in November 2017. Her friend John Crawford reportedly was given the document to the outlet.
Well, the story doesn't end here. There are a lot more things you don't know about the Karen McDougal. Further, we will be talking in detail about her career, income, net worth, and salary as well. Here is all you need to know about her.
Must Read – 7 Fascinating Facts About Rehab Addict Nicole Curtis
Karen McDougal and Donald Trump First Met At The Playboy Pool Party
46-year-old Playboy model Karen McDougal reportedly first met Donald Trump at the Playboy Mansion in June 2006. At the time, the billionaire was married to his current wife Melania Trump.
IAccording to New Yorker, McDougal disclosed that now-president "immediately took a liking" to her. They duo talked frequently at the party and instantly hit it off.
Credit: daily-retirement
At the end of the night, Trump and McDougal reportedly exchanged their phone numbers. They later started talking on the phone and eventually started dating – shortly after the birth of his son Barron Trump. McDougal further claimed that Trump offered her money not to tell about their physical relationship.
McDougal also alleged that the president invited her for dinner in a private bungalow at the Beverly Hills Hotel. McDougal first shared her hand-written notes with The New Yorker, where she revealed her experience, writing
I was so nervous! I was into his intelligence + charm. Such a polite man. We talked for a couple hours – then, it was 'ON!' We got naked + had sex,
She further said that Trump offered to pay her after having sex. She opened up about her notions regarding the incident, saying,
He offered me money. I looked at him (+ felt sad) + said, 'No thanks – I'm not 'that girl.' I slept w/you because I like you – NOT for money' – He told me 'you are special,
Trumps' extramarital affair with McDougal was going well at the time. She used to met up with Trump whenever he was in Los Angelas. At the time, they attended various events and enjoyed their every moment sharing a quality time together.
Source: express
Additionally, McDougal got an opportunity to meet many Trump's family members, including his two sons Donald Trump Jr. and Eric Trump.
McDougal said that the alleged former couple ended up their divorce in April 2007. The proper reason why they parted ways is still has to be revealed. But her friend John Crawford said that she was feeling very guilty thinking about her affair with Trump. Hence, she split with him.
The National Enquirer's Publisher American Media, Inc. Bought The Rights To Karen McDougal Story For $150,000
In her statement, McDougal explained that the owner of the National Enquirer David Pecker paid her $150K for exclusive rights to her story. The CEO is one of Trump's friends who never printed the story but instead, buried it and kept it away from the public.
Credit: idposter
Talking to the New Yorker, McDougal said that she regretted after speaking about the affair and signing the contract.
MacDougal Previously Was A Preschool Teacher and Won Venus Swimwear Swimsuit Competition
Born on March 23, 1971, in Merrillville, Indiana, McDougal moved to Michigan with her family at the age of 9. She has four siblings, three elder brothers, and one younger sister. She completed her graduation from River High School in 1989.
During her highs school days, McDougal used to play volleyball and softball. At the time, she was also heavily involved in school's music program. She also used to do othet activities; she was a band member, a cheerleader, and a member of the color guard while in school.
Credit: nationalpostcom
McDougal earned her degree in elementary education from the Ferris State University. She later went on to work as a preschool tutor in Detroit, Michigan.
At the time, McDougal went on to compete in the local club and ended up winning the contest. She again became one of the challenging competitors in the Venus Swimwear swimsuit competition which she won.
Karen Is a Former Playboy Model And Was Playmate of the Year in 1998
In the late 90s, McDougal got a chance to try out for the American men's lifestyle and entertainment magazine, Playboy. Since then, she has established herself as a successful model and also featured in numorous photos and videos for Playboy.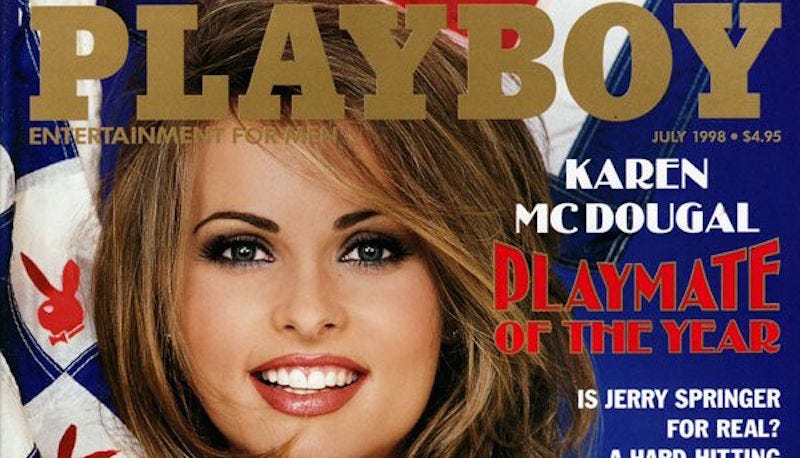 Credit: theslot
McDougal was selected as Playmate of the month, in December 1997. And in the following year, she was entitled Playmate of the Year of 1998 at a luncheon at the Playboy Mansion. McDougal was awarded $100,000 and a special edition silver Shelby Series 1 for winning the Playmate of the Year.
McDougal was also named runner-up as the sexiest Playmate of the 1990s in 2001, whereas the winner was actress-model Pamela Anderson.
McDougal Is Also An Actress; Currently Works As a Fitness Model
In addition to her contribution to Playboy, McDougal also did other modeling jobs and even appeared on several big screens. She also became the first female to appear on the cover of Men's Fitness Magazine.
The preschool teacher turned model started her acting career giving small and uncredited roles in movies like Joe Dirt and The Arena. Her major breakthrough came in 2000 as she was cast in action comedy movie Charlie's Angels.
The movie turned out to be a commercial success grossing $264.1 million against its budget of $90 million. According to her social media sites, McDougal is currently working as a fitness model and a columnist for several popular magazines, including Ok Magazine, Star Magazine, and Radar Online.
She Is An Avid Car Collector and Motorcycle Rider
MacDougal first signed her modeling assignment at a Harley-Davidson bike show in Detroit, where she worked as a promotional model. She owned a pink custom-built motorcycle, in 2004 and participated in an Easyriders sponsored motorcycle competition in Pomona.
Credit: StarsInformer
After winning the competition, her motorcycle received the Best Radical Custom award. Further, McDougal is an avid animal lover who has two cats; Brittany and Brandy. She has also two tattoos.
Karen's Salary and Net Worth Throughout Her Career
According to CNW, McDougal has an estimated net worth of around $1 million, as of March 2018. After becoming the Playmate of the Year, she received $100K and a special edition silver Shelby Series 1 car whose worth is around $225,000.
Credit: pinterest
According to some reputable online sources, McDougal's estimated salary is more than $60,419 annually, as a fitness model. The model was earning $55,989-$60,516 while working for the Playboy.