If you are a car lover then you must watch Discovery's Fast N' Loud show and undoubtedly it would be one of your favorite shows. Additionally, the two half of the show, Aaron Kaufman, and Richard Rawlings would be your favorite pair. But unfortunately, Aaron is no longer on the show.
This might shatter your and other millions of heart but you read that right guys. Aaron is no longer a part of the Gas Monkey Garage which he had started along with Richard Rawlings.
People are giving various reasons for Aaron left the show and garage. But what's the real cause that forced him to take this huge decision? Let's find out.
The Reason Why Aaron Left Fast N' Loud Show And the Gas Monkey Garage?
During the final episodes of Fast N' Loud, Kaufman had spoken to Rawlings about leaving the Gas Monkey Garage permanently. Kaufman seemed to be fed up with the fact that the Garage had been losing its fame. Because of the six weeks pressure and unbelievable deadlines, the twosome had to build so much in such little time.
Credit: musclecarszone
All these things made Kaufman too much busy and consumed, but he wants some private time for his solo career. He even once said;
I don't feel the need to deliver cars in each couple of weeks but I want to do that at my own pace.
Check out the video where Kaufman says goodbye to the GMG.
As revealed by Art of gears, he has been planning to return to television with his own show, but he wants to come on the show alongside Rawlings. Kaufman has his own project with an Arclight company that constructs the parts for restoring Ford F-100 trucks.
Not A Married Man But Dating Girlfriend Lauren Moore Knob: Their Love Affair And Relationship
Kaufman has not been engaged nor married to anyone. However, he has been enjoying a romantic relationship with his girlfriend of four years Lauren Moore Knob since 2013. It's still unknown that how and when they first met but they were first seen together in a 2014's episodes of Fast N' Loud.
As per the report, the couple has been in a live-in relationship and are living in the same apartment together.
Dating Boyfriend and Girlfriend: Aaron Kaufman and Lauren Moore Knob
Source: Twitter
Before Kaufman started his relationship with Knob, he previously had an affair with his ex-girlfriend named Lindsay J. His positive charming looks and positive attitude must have won the heart of Lindsay that they enjoying their relationship for almost three and a half years.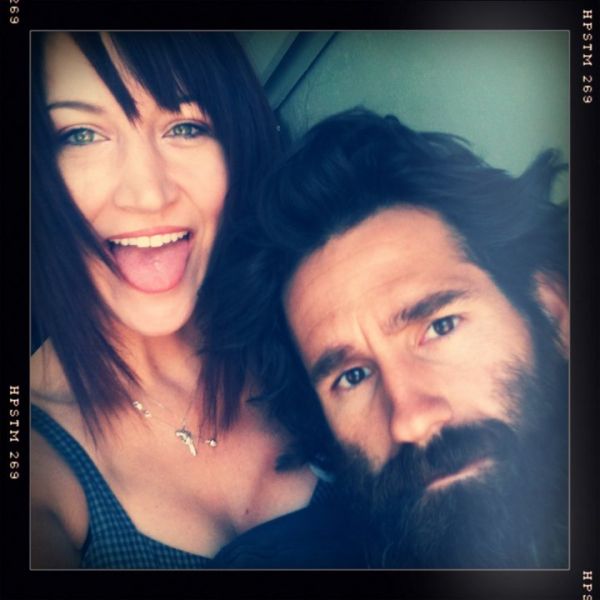 Former boyfriend and girlfriend; Aaron Kaufman and Lindsay J.
Source: gettyimages
But no one knows the reason behind their break up.
The good news is that Kaufman is now happy with his current girlfriend Lauren. We hope them to hold their wedding soon and be husband and wife.