In the world where 40-50 percentage of marriage results in a divorce, Martha MacCallum has set the bar high with her perpetual compatibility with her now-husband Daniel John Gregory. The lady, besides being a beautiful wife, is a Fox News host acclaimed for her dynamicity and professional distinction.
With shows like The Live Desk and America's Newsroom being an account of her existence, Martha has been perpetuating her excellence in every given arena.
Be it interviewing the president of United States, Barack Obama, or New Jersey Governor Chris Christie, the 54-year-old has walked off the path with an equal aplomb. Well, her incomprehensible professional achievements at one side, her coherency in her love life has also been exquisite.
Having been together with her husband Daniel for over 25 years, the couple's married life is an account of what we call "Til Death Do Us Part". However, recently the rumors of Martha divorcing her spouse was a subject on the internet. Well, staying true to the oath, the journalist has proved all the claims baseless conjectures.
Let's face what exactly happened. Further, their love for their children is one other thing that is equally exciting.
The Truth Behind Martha MacCallum's Divorce Rumors: Extramarital Affairs
25-years long marriage between Martha and her husband Daniel was all of a sudden concluded to be a stockpile of conflicts by so-called "unknown sources." Not only this, but the Fox reporter was also professed of illegitimate romantic relationship(extramarital affair).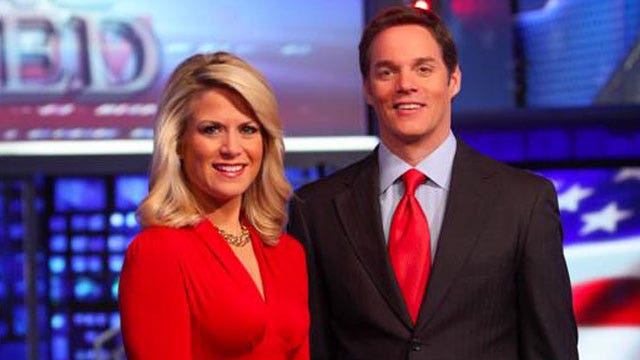 As far the reports are concerned, Martha was alleged of being in a relationship with her co-worker, Bill Hemmer. As anyone would expect, the rumors soon escalated finally proving to be a threat to her relationship with Daniel. In fact, the rumors of her affair with Bill became a loophole where all the conjectures of her divorce with Daniel abruptly ignited.
However, when confronted, the rumors settled down to be baseless allegations.
Martha MacCallum Clears Divorce Rumors: Bill Is Not Her Boyfriend
With her alleged affairs making rounds on the internet, the journalist predominantly stood up to address the rumors in the public. In fact, she effortlessly fended off all the conjectures of her divorce and Bill Hemmer being her boyfriend. As beautiful it may sound, Martha came up with the wittiest response defying all her infidelity claims.
Video: Five Interesting Facts About Martha MacCallum
Interestingly, she changed her Twitter description to clear up the buzz. The Twitter profile that previously acknowledged her profession was changed so that it became a remark of her love for her husband and kids. It reads:
Anchor, Reporter, Jersey girl and St. Lawrence University grad. Love Dan, my awesome kids, politics, sports, and theater. Retweets not endorsements.
Well, Martha cozily proved herself true to her husband and her beautiful children that is commendable.