Sean Hannity is one of the most controversial television personality who has always been surrounded by the sexual harassment allegations. This is the thing why the divorces rumors of Sean have been speeded all over the world.
Sean Hannity is a versatile American talk show host, author, conservative political commentator as well as a conspiracy theorist. Sean has been married to her wife Jill Rhodes since 1993 and the couple shares two children together.
The sexual harassment claims became the reason for the people to speculate if Jill filed for divorce against her husband. So, how much this story is true? Read the full article for the details.
Sean Hannity Sued For Sexual Harassment Allegations Claims By Debbie Schlussel
You won't deny but the year 2017 became the year full of sexual harassment and misconduct against the celebrities including the top bosses like Harvey Weinstein, Bill O'Reilly, Kevin Spacey and many others.
Sean Hannity also joins the list as he has been accused of sexual harassment by a woman named Debbie Schlussel, according to the American Attorney.
Sean Hannity Sexual Harassment Allegations
Debbie claimed that the Fox News' Hannity host tried to call her in his hotel room at the time when both of them were in a book signing.
But Sean completely denied all these allegations and decided to fight against these claims stating;
The individual has not just slandered me over the years but many people who this individual disagrees with. This individual desperately seeks attention by any means necessary, including making unfounded personal attacks and using indefensible and outrageous political rhetoric. My patience with this individual is over.
Sean Hannity Amid Sexual harassment allegations
Credit: chicagonow
Sean is pretty sure about himself, however, the woman is not stepping back from her statement. She later claimed that the host shut her off during their show and after the show ended, Sean came up to her once again inviting her to his hotel room.
When Sean felt it's enough, the 55-year-old television presenter decided to file a legal case against the woman. He said;
I have retained a team of some of the finest and toughest lawyers in the country who are now in the process of laying out the legal course of action we will be taking against this individual.
Now, we have to see what will happen next.
Married Life Of Sean And His Wife Jill Rhodes: Parents Of Two Children
Let's start from the beginning. As per the report, Sean first met his future wife Jill Rhodes while Sean was working for WVNN and Jill was working as a writer for the Huntsville Times in Alabama. At the time, Jill had just completed her graduation from the University of Alabama.
Husband and wife: Sean Hannity and Jill Rhodes (married surrounded by divorce rumors)
credit: pinimg
After several meeting, the pair started falling love with each other and eventually started an affair. And after a few years of dating, the couple took their relationship to next level by getting married in 1993 in front of nearest and dearest friends and family members.
Sean Hannity and Jill Rhodes children: a son and a daughter
credit: celebwives
After six long years of waiting, the couple was finally blessed with their first child, the elder son Patrick Hannity who was born in 1999. After a few years, Jill gave birth to their second child and the first daughter in 2002 and they named her Merri Kelly Hannity.
Are Sean Hannity And Jill Rhodes Getting Divorce?
Following the sexual harassment allegations against Sean, people started speculating that Jill must file for divorce against her husband because it was really a strong reason to do so. But as the allegations have not proven yet, there is no point to say, Sean, a wrong person.
Thus because of the lack of the evidence, we can't insinuate the pair's marriage and as per the report, eventually, all those rumors are turned out to be false.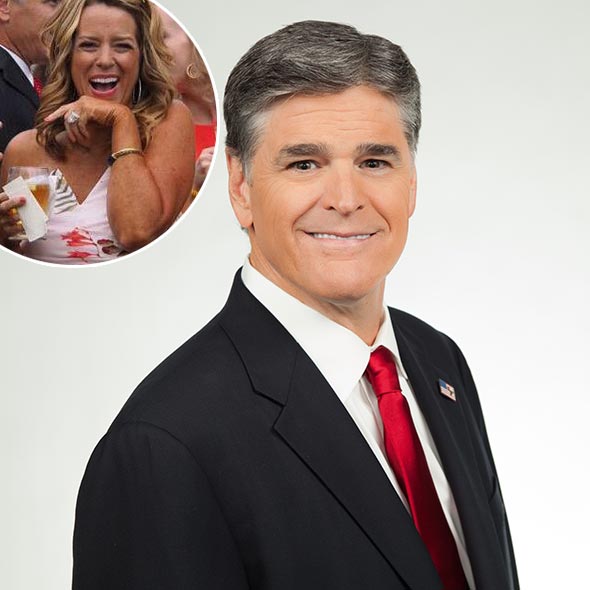 Sean Hannity and wife Jill Rhodes
Credit: enews
The perfect family of four is reportedly living happily together in their Long Island home. In 2015, Forbes reported that Sean's annual salary was $29 million and according to therichest.com, his net worth was estimated to be $80 Million throughout his career.